Enhanced Video Texting is the biggest innovation in peer-to-peer (P2P) texting since P2P itself. Read more here:
Our team has always been committed to providing the best possible tools in P2P texting for our clients, and we have delivered on this commitment with our innovative Enhanced Video Texting made possible by our industry-leading video compression technology.
Want to know more about this revolutionary innovation in texting and how it will enhance your outreach? Here are 12 of the top questions asked about Enhanced Video Texting to help you get started:
1) What is Enhanced Video Texting?
If you have ever tried to send a video to a friend who has a different phone platform from you, Apple to Andriod for example, you will have seen how much the video quality declined and how the audio quality distorted. That is the primary challenge behind video texting at scale, and one that our team solved with Enhanced Video Texting.
Enhanced Video Messaging is a service we provide from our industry-leading video compression technology that enables you to deliver high quality, 30-60+ second videos embedded directly in your text messages. This means your audience won't have to click a link to view your video elsewhere. We also offer custom closed captions to your videos so they are watchable even on phones set to silent mode.
2) Why don't I get the same results when using other video compression tools?
Off-the-shelf compression tools use basic algorithms designed with one goal in mind: reducing the file size, with no regard for audio/visual quality or even the platform on which the final video will appear. Since most of these free compression tools are catered to reducing files to sizes appropriate for social media use, they rarely accommodate file reduction to textable sizes, requiring users to run several compressions on the video which results in iterative quality loss.
Simply put, these off-the-shelf compression tools cannot compress a video longer than 15 seconds down to a text-able size without severely sacrificing visual and auditory quality. Similarly, other video SMS platforms, video texting apps, and services that offer regular MMS services like MMS messaging do not come close to our quality or delivery rates.
By contrast, our tool is designed with texting in mind. By examining individual video qualities, engineered specifically to meet mobile carrier requirements, we are able to deliver the highest quality videos at textable sizes.
We offer a unique solution to seamlessly embed a video within a text that retains maximum production value and audio that is optimized to work on all major phone carriers.
3) What is the difference between Enhanced Video Texting and standard MMS?
Standard MMS are messages with a multimedia attachment such as a picture, GIF, or video sent on their own or embedded with a message. Enhanced Video Texting allows you to send much longer videos to multiple phone platforms without sacrificing quality, which is something Standard MMS videos are normally not capable of and other texting platforms have not been able to achieve.
4) Why is it more effective to use Enhanced Video Texting over standard SMS or MMS?
Sending a quality video directly to people's phones produces real results. For example, people retain 95% of a message when they watch it in a video compared to 10% when reading it in a text.
Additionally, messages containing videos have a 50% higher response rate than plain SMS messages which is why video text message marketing and fundraising campaigns perform significantly better than regular SMS or email. The potential application of our breakthrough enhanced video texting crosses industries, from political video text marketing to video messaging for business.
On top of all these great benefits, a staggering 92% of mobile video viewers share videos with others, which means taking the time to send a video to your audience will most likely result in your message being shared with others at no cost to you. Pictures and GIFs do not have this same level of share-ability, and low-quality videos will likely not even be opened or watched all the way through, much less shared.
5) Why should I send an Enhanced Video Text instead of including a link to a video?
Embedding a video is far better than sending a link to a Youtube video. People are hesitant to click on external links from texts because of warnings from government bodies like the FTC who caution against clicking links sent in unknown texts, and also experiences with email phishing scams. Including a link also means that there will most likely not be a preview image, which is one of the major driving forces behind consumers deciding to watch a video.
Another benefit to our EMMS technology is that our clients can choose the thumbnail for videos sent through us. This is significant because 90% of the top-performing videos on YouTube use a custom thumbnail, and this is just not possible to do when sending a link to a video instead.
6) What carriers let you send Enhanced Video Texts?
Our Enhanced Video Testing has been rigorously tested and optimized to retain maximum video and audio quality on all major phone carriers, including Verison, AT&T, and T-Mobile.
7) Why are video captions important?
Hearing impairments affect more Americans than people realize. According to Johns Hopkins Cochlear Center for Hearing and Public Health, approximately 38.2 million Americans, or 14.3%, report some degree of hearing impairment or loss (source).
Our Enhanced Video Texts include captions that are custom mapped to match the voiceover so the videos are watchable for everyone. According to a consumer study by Verizon, "50% of consumers said captions are important because they watch videos with the sound off" and "80% of consumers are more likely to watch an entire video when captions are available" (source).
8) How long can the Enhanced Videos be?
In general, the best results can be achieved with videos that are 30 seconds, high quality results can be achieved with videos that are 31-45 seconds, and good results can be achieved with videos anywhere from 46-80 seconds.
All videos are unique, and we look into the parameters and other specifications within each video to produce the best possible results when compressing them.
9) Why should I choose RumbleUp's Enhanced Video Texting over other video texting apps and services?
Simply put, other video SMS platforms, video texting apps, and services that offer regular MMS services including MMS video messaging do not come close to our Enhanced Video quality or delivery rates. Additionally, our Enhanced Video Texts can be embedded directly in full-length 320 character messages so you can make sure the message you want to get across to your audience is received correctly.
10) Why is there a surcharge for the service?
High quality video compression is a time-intensive, manual process. Automated compression services do not take into account the individual characteristics of your video, resulting in poor and often unwatchable quality. Because of this extra work and load on our system, there is a 6 cent service charge per text over standard MMS.
11) How do I submit my request?
Submission requests are now available in your portal! Due to the time-intensive nature of the compression process done by real people (not algorithms!), the current processing times per request is approximately 12 hours.
Because video compression quality begins to rapidly decline with each second after 30 seconds, we are currently limiting videos to 30 seconds in length.
12) How have other people used Enhanced Video Texting?
There are many ways our clients have used Enhanced Video texting, including campaign & promotional videos, video announcements, fundraising videos, thank you videos, and more.
Here are some real examples of Enhanced Videos sent by clients just like you.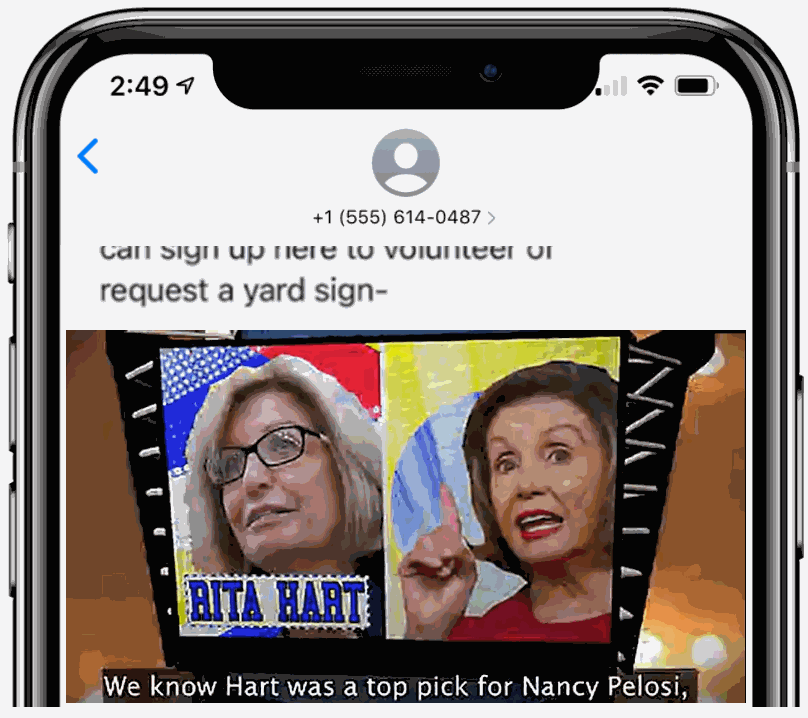 This client texted for many congressional candidates across the country, and they sent 30sec Enhanced Videos with all their messages speaking against their client's opponents in a light-hearted manner.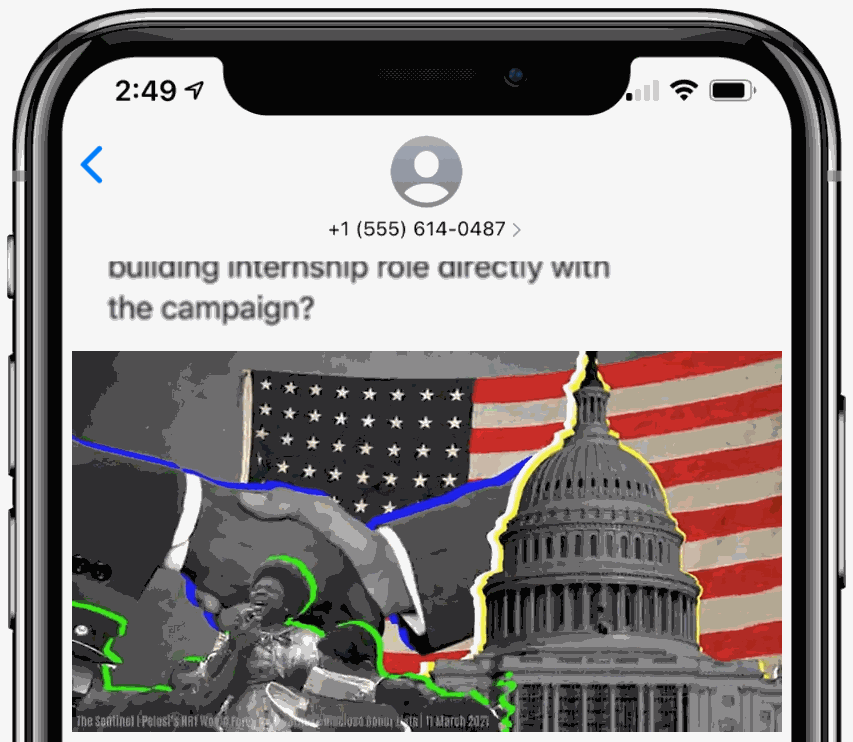 This client texted out a call-to-action Enhanced Video asking people to call their senator to ask about a controversial new bill.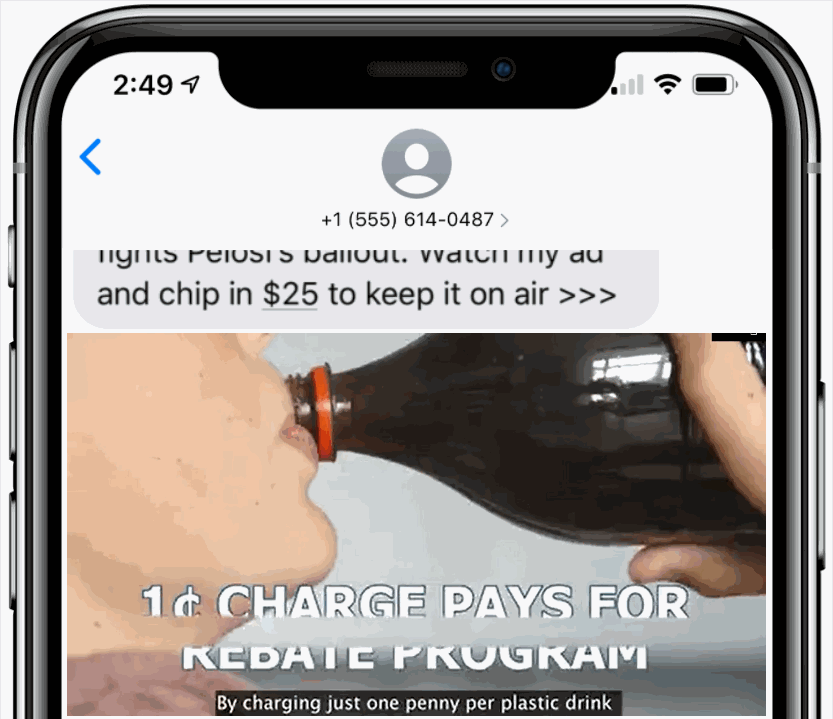 This client texted out an informative Enhanced Video asking people to support their initiative to reduce plastic pollution in Texas.
Like what you see?
Sign up and start texting today at rumbleup.com or reach out to our sales team to talk about how Enhanced Video Texting can best work for you: sales@rumbleup.com.