RumbleUp Enhanced Video Texting

Key Enhanced Video Texting Features
Bring your audience engagement to the next level by using RumbleUp's exclusive Enhanced Video Texting solution – perfect for campaign ads, direct-to-camera asks, advocacy awareness, fundraising, product marketing and more.
In-Portal EVT Production Requests
Upload your video for production anytime, anywhere. Review, edit, & approve EVT subtitles after compression, then you are ready to send your video!
Videos Embedded in Full Character Texts
Embed 30+ second custom compressed videos directly in full 2000 character texts to seamlessly enhance messages.
Mobile Optimized Video Presets
Our team can transform any video to fit the streaming quality parameters supported by mobile platforms for the best delivery.
Custom Preview Thumbnails
Capture your audience's attention with a compelling thumbnail auto-generated from your video, or upload one of your own.
List Segmentation Tools
Our Smart CRM makes it simple to create custom groups within your contact book based on a range of customizable conditions.
Dynamic
Tagging
Create your own tags and apply them to conversations for advanced data collection and re-targeting.
Show Your Accomplishments
Enhanced Video Texting Industry Awards
Why You Should Use EVT
Maximize the impact of your videos by using our Enhanced Video Messaging software to send the highest quality video texts ever.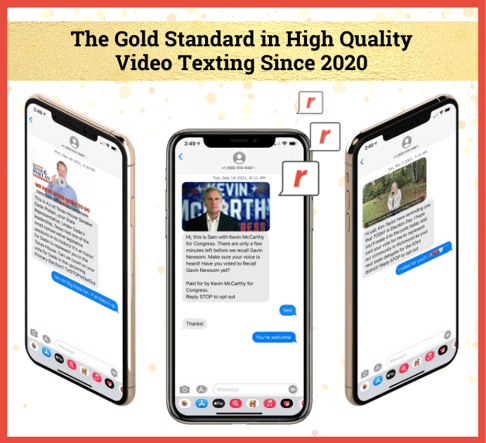 We Want To Send You A Video
Seeing is believing! If you want to receive a sample of a real, made-for-TV ad converted with our award winning EVT technology, text ENHANCED to 833-530-4400*.
*By texting 833-530-4400, you consent to receive texts only from RumbleUp to this number. We may use an automatic telephone dialing system to send texts. Message/data rates may apply. Message frequency may vary. Text STOP to opt-out. Text HELP for assistance.