6 minute read
So you're Running for Office? Great. Time to Start Texting.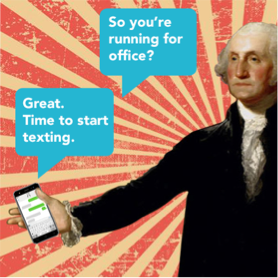 Texting by real human beings is the best way to get in touch with voters in a fast, personal, effective way.
That's why peer-to-peer texting was the breakout tool of the 2018 midterms.
Many campaigns, however, hopped on the bandwagon only at the very end of the 2018 cycle and only sent texts for GOTV (get out the vote).
While this is a great use of the tool (and there are good resources explaining how to do it, like ours), the reality is there are SO many more ways to use texting throughout your campaign. In fact, the smartest use of the tool is to integrate it into your outreach programs from the very beginning of your campaign to get the best possible data on who your potential voters are and what will (eventually) get them out to the polls to support you.
So don't wait until the last minute to use this incredible resource! Start talking to voters immediately and start building the momentum now which will propel you to victory on election day.
Here is a roadmap for how your campaign can best harness the incredible potential of peer-to-peer texting with RumbleUp when you throw your hat into the ring:
#1 Name ID
You're running for office! Time to get the word out.
Think about your texting plan as an ongoing conversation you want to be having with voters. If you're talking to your friends in a group chat, you wouldn't start the story you want to tell them at the end, would you? Same goes for the conversation you have with voters. Begin your conversation by sending a friendly 'hello' text letting people know that your candidate is running for office and why. This is an excellent opportunity to set the tone you want to have with people in these conversations and give a good first impression.
We've seen thousands of different messages sent by campaigns, and by far the best performing messages are always the ones which ask the voter a genuine question about themselves. Our advice when sending out this first text introducing the candidate is to end with a question asking what issue matters most to that person. This is the perfect question you should be asking your voters because not only does it open up the opportunity for conversation and make the recipient feel like their opinion is being heard, our platform also makes it easy to tag folks' responses so that you can use this valuable data later on in the campaign when you do follow ups.
Pro tip: Make your message even more personal by having it come from the candidate him/herself.
Audience: New, Swing, and Low-High Propensity Voters
#2 Volunteer Recruitment
Every campaign needs volunteers, and the more you have the greater an impact you can make.
After you send out your initial text introducing the candidate, you likely will have received a good amount of positive responses from people either voicing their support or interest in the campaign. Be sure you are tagging all responses! It is a powerful feature that will immensely improve the effectiveness of your texting programs. For example, by using our tagging feature you can be marking recipients as 'Positive' when they reply to your initial text and voice their support. Then you can create a new audience in the RumbleUp portal of everyone who was tagged 'Positive' and send all of those people a text asking if they would like to volunteer.
Pro Tip: You can also use pre-scripted replies and ask someone if they would like to volunteer in the initial conversation you have with them. Then if they say yes, you can tag them as 'Volunteer' and add them to your volunteer list for follow-up. The more segments you create, the more personalized your outreach will become.
Audience: Positive Responses + Likely Supporters/High Propensity Voters
#3 Event Attendance
No one wants an empty event — especially if it's your campaign kick-off! To get people out, send them a text invite. We have seen that the most effective way to dramatically boost event attendance is to send an initial invite text to people in the area two days before the event, and then a reminder text the day of.
Casual conversational invites work best. By using texting to invite people in the area to your events, you're able to quickly and easily answer people's questions about location, transportation, what kind of food would be served, etc.
Pro Tip: You will likely have a fair amount of people text back saying that they won't be able to make it but would be interested in coming out for the next one. Tag these people to follow-up with an invite to the next event!
Audience: Positive Responses + Mid-High Propensity Voters in geographical areas near your events
#4 Polling/Surveying
It should really come as no surprise that voters are more likely to talk to you if you give them a chance to voice their opinion first. If you want someone to care about your campaign, you need to start by listening to what that person cares about. I mentioned earlier in this article that asking people questions is the best way to get responses. I'm bringing it up again because it is that important to emphasize, and also you need to be doing it more than once! Don't just ask someone what their most important issue is and then never return to the topic again. Use the responses you get to shape the next message you send asking for people's opinions.
Here's an example:
1st Text: "Hi Jane! My name is John Smithy and I'm running for office. I'm texting people in the area to spread the word and let you know that I want to make sure I'm representing the community in the best way possible by fighting for what matters most to the people who live here. Is there one issue at the top of your list that I can help you fight for?"

2nd Text: (based on answer given): "Hey Jane, this is Sara with the Smithy for Congress campaign. I'm so glad that *insert answer here* is your top issue. John Smithy has a detailed plan to address this problem: *insert hyperlink here*…. Would you be interested in *insert call to action* to help us fight for the cause?"
Pro Tip: Always have a call to action as a pre-scripted reply to send people if they respond positively to your message. Don't waste an opportunity to move someone up the ladder of engagement! The faster you reply, the more likely they are to act.
#5 Yard Signs
(and all that other fun stuff campaigns give out)
By now you have identified many supporters through the conversations you've been having and can re-target them using the tags you've applied. Hopefully you have made them feel engaged with the campaign by asking them what they care about most, and by letting them know they can count on your candidate to represent their concerns if elected to office.
Once you know someone is a supporter, an easy follow-up is to ask them if they would like a yard sign. If they say yes, ask them for their address and tag them as 'Yard Sign' for example. Or bumper sticker. Or asking them to become a peer-to-peer texter! The sky's the limit.
Audience: Positive Responses + Mid/High Propensity Voters
#6 Keep People Engaged
Have a breaking news story come out that you want everyone to see? Send it via text! There really is no better way to get a message in front of someone than to send it right to their phone.
It is an easy way to cut through the noise and a good strategy for staying ahead of mis-information. Remember to still keep your message friendly though. Don't come across like a news anchor pitching the latest headline. Always write your messages like they are coming from a friend of the recipient, keeping in mind that text messages are a much more casual form of communication than email or TV.
Pro Tip: Don't forget that with RumbleUp you can embed multimedia attachments like pictures and videos right inside your text message! Check out our best practice article about how this can double your response rate.
Audience: Largely depends on content you're sending — if you have the right tags active, you will know the best audience to target
#7 Fundraising
Last but not certainly not least, remember that P2P texting is a fast and easy way for you to raise money. Send recipients a link to your mobile optimized donation page with a message tailored to your audience asking them to support the campaign.
We also have an integration with Anedot (and soon, WinRed) which makes it even easier for people to donate if they've saved a credit card on file.
All a potential donor needs to do is respond to a text with "YES," plus the amount they wish to donate. Once that happens, if they are a registered Anedot donor they will be automatically charged and emailed a receipt. If they are not already a registered donor, a texter can reply with a personalized donation link.
You can run a fundraising program on its own and send it to people who you have identified as likely supporters.
Pro tip:We also recommend having a message with your fundraising link loaded in as a pre-scripted response for your other messages. This way, if you're having a conversation with someone who is super excited about your candidate, you can capitalize on that energy and send them your fundraising message at the optimal time for engagement. Take advantage of the speed and flexibility texting offers!
---
Putting It All Together
A good messaging program will use all of these touch points to layer threads on top of one another and by executing each layer effectively (tagging people correctly and sending the correct responses) you will constantly increase the effectiveness of the messages you send. This is because you know you're sending the right message to the right people based on information you have gathered from earlier messages sent.
The texts you send early in the campaign should focus on education and light engagement. You should ask recipients lots of questions and make good use of our tagging feature to focus follow-ups based on the audiences you can segment out.
Most importantly: get ahead of your opponents and start texting today!
Visit us at RumbleUp.com to get started. Our support team is always happy to help you apply the general lessons above to your particular goals and use cases.
Happy texting!
---
Learn more about RumbleUp: Advanced P2P Texting at our website.
Subscribe to our influencer newsletter to keep up with the latest news in P2P.