5 minute read
The 2021 Textie Awards: Celebrating The 9 Best Uses of P2P Texting in 2020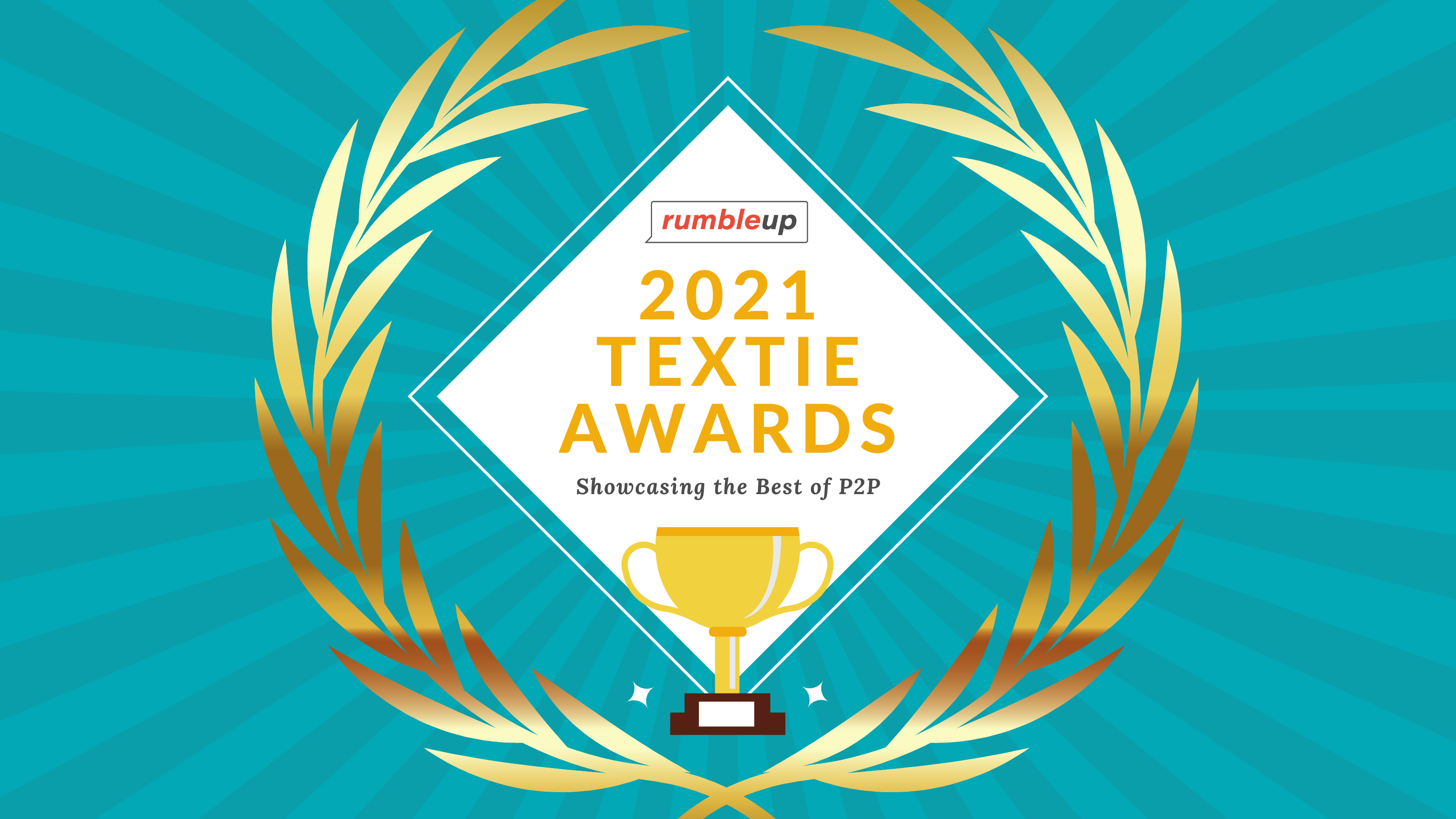 The 2021 Textie Awards are the newest political award recognizing excellent use of peer-to-peer (P2P) texting in 2020.
Due in large part to the introduction of COVID-19 related disruptions, 2020 became the year of distanced outreach for campaigns across the country. Switching gears from traditional campaigning was tough for many candidates to handle, but it also served as a wake up call for groups to start getting creative with their digital outreach.
The common denominator for successful campaigns last year was their ability to make use of new, innovative technologies such as peer-to-peer (P2P) texting. We saw an explosion in the use of P2P texting last year as it quickly became the ideal alternative to in-person efforts like events and door-to-door canvassing. As a result, there was a massive uptick in creative uses of P2P texting that changed the way we think about traditional campaigning.
Inspired by this, our team decided to showcase some of these innovative uses of P2P texting and celebrate those who achieved their goals through the successful integration of texting.
To give these use cases the attention they deserve, we created The Textie Awards; a new political award exclusively dedicated to highlighting excellent use cases of P2P texting by campaigns and organizations using RumbleUp across the country.
Winners of the Textie Awards are recognized as leaders in the industry for their effective use of innovative technology in their awarded category. The categories are broken down by goal; GOTV, Fundraising and Advocacy. After thorough judging by a panel of campaign experts, we are proud to announce the 9 best-in-text winners of the first annual Textie Awards!

The 2021 Textie Awards Category 1 - GOTV
This group used texting to propel Rosilicie Ochoa Bogh from her place at the bottom of the polls to ultimately winning a highly contentious general election. Their messages targeted Independent/NPP/Swing Voters, which generated thousands of new votes from voters who had not voted in the previous 2018 primary or general election. Bogh is now the first Hispanic female Republican to serve in the California Senate.
This group created a compelling texting program for the Gary Gates campaign to overcome the challenge of piquing voters' interest in an off-year election when engagement is typically low.
They created a series of five GOTV texts using best practices such as using language that encouraged replies, writing with a conversational style instead of traditional formal writing, and sending multimedia attachments (MMS) messages to improve delivery rates and increase legitimacy. Their messages focused on making sure voters received their mail in ballots, explaining the good character of Gates as a candidate, promoting special events, and encouraging low turnout voters with targeted issue based GOTV messages.
Their texting program proved successful and their candidate advanced to the top of the runoff among seven candidates, ultimately achieving victory on election day.
This group sent full length made-for-TV campaign ads directly to voters' phones via text. These high definition, professionally produced videos achieved viewership levels significantly higher than traditional TV because of the increase in cord-cutting causing 1-in-5 households to no longer have traditional TV service, limiting its reach and effectiveness. Additionally, social media ad platforms became an unreliable alternative for advertising last year because of the ad freeze put in place by most of the big tech giants. The feedback from both campaigns and recipients of these messages described the texts as a captivating new outlet to connect with voters and to get them out to the polls. Ty

The 2021 Textie Awards Category 2 - Fundraising
This company's P2P program for the Tillis campaign surpassed their fundraising goals and grew the size of their text donor file by over 500%. Of the millions of dollars raised for the Tillis digital program, nearly half came from Campaign Inbox's P2P texting program. The program's success was achieved by fully embracing the two-way conversational functionality of P2P texting that allowed the candidate to personally connect with donors himself. By tailoring unique messages for specific audiences (such as new prospecting acquisitions) resulting in additional conversions, the program's ROI grew continuously over the course of the cycle – in many cases, raising well over $20 for every $1 spent sending.
This agency raised $275,000 in 5 months for US Congressional Candidate Joe Collins through a combination of soliciting previous donors as well as acquiring new donors through large-scale prospecting via P2P texting. The campaign used our tagging feature to mark people who expressed support and those who donated to segment them into cultivated retargeting lists, successfully receiving 2nd and 3rd donations often within a week of a person's original donation. The campaign saw an ROI of nearly 15X.
Bronze Level Winner: "Notorious MTG" Submitted by Big Red Wall Communications with acknowledgements to Greene for Congress, Big Red Wall, and PHP
This group targeted grassroots/small-dollar donors through text and was able to raise over six figures with minimal investment. They ran an extensive name acquisition program to gain supporters' phone numbers and uploaded them in batches segmented by individual amounts given to allow A/B testing before deploying larger projects to groups of 10,000+ supporters. They said the key to their success was being able to respond through our platform and text back with supporters at a moment's notice. This was made possible with Rapid Respond mode built into the RumbleUp platform.

The 2021 Textie Awards Category 3 - Advocacy
This group's goal was to educate Republicans on why they should vote NO on a down ballot Amendment that would allow Democrats to choose Republican candidates in Florida primaries. They leaned heavily on utilizing MMS messages to send images and videos featuring Gov Ron DeSantis in order to increase trust and engagement with voters. They sent over 2 million text messages in the final week of the campaign and were ultimately successful in preventing the Amendment from being passed.
Silver Level Winner: "Defensive Texting for Senator Marshall" submitted by Coefficient with acknowledgments to Keep Kansas Great Pac and Senator Marshall
This group helped the Roger Marshall for Senate campaign cut through the noise and secure the Republican nomination by sending high quality videos via text message. This allowed Marshall to be competitive in a crowded and well-funded 11-way primary and defend against well-funded outside groups' onslaught of attack ads. Marshall achieved victory in the primary despite these challenges, and won the general election.
This group used embedded videos to persuade voters in Pennsylvania with messages pointing out how many jobs were lost in the state the last time Joe Biden was in office, asking them to support GOP candidates instead. They reached around 240,000 voters in PA with this video, and received an overwhelming amount of positive replies such as; "awesome video!" and "Yes, GOP all the way!"

Best Overall Texting Program of The 2021 Textie Awards
Murphy Nasica's work on the Rosilicie Ochoa Bogh campaign stood out the most to our judges as the Best Entry Overall.
While their story ends well, they faced significant challenges along the road to victory. Along with COVID-19 restrictions turning traditional campaigning on its head, the candidate's historically Republican district was now evenly split between Democrats and Republicans. The ticket consisted of two Democrats and three Republicans which meant there was a strong chance the two Democrats would make it to the general election because of vote splitting. On top of that, our candidate was dead last out of all five candidates in the initial polling.
Murphy Nasica & Associates used P2P texting to target Independent/NPP/Swing Voters, which generated 13,787 new votes from people who had not voted in the previous 2018 primary. This propelled Rosilicie from last in polls to the top two in a tough jungle Primary.
They used this momentum and continued to text through election day where Rosilicie went on to win a challenging general election with a margin of 21,541 votes. Their team used P2P texting to make a comeback of a lifetime and successfully elected the first female Hispanic Republican to serve in the California Senate.
Final Thoughts
Thank you to all the participants who took part in the first annual Textie Awards. We look forward to seeing more innovative uses of RumbleUp as P2P texting continues to grow, and celebrating more victories like these in the future!
Inspired by how these entries used texting to achieve their goals? Sign up and start texting today at rumbleup.com or reach out to our sales team to talk about how texting can best work for you: sales@rumbleup.com.