5 minute read
5 Effective GOTV Texts Every Campaign Should Send Before Election Day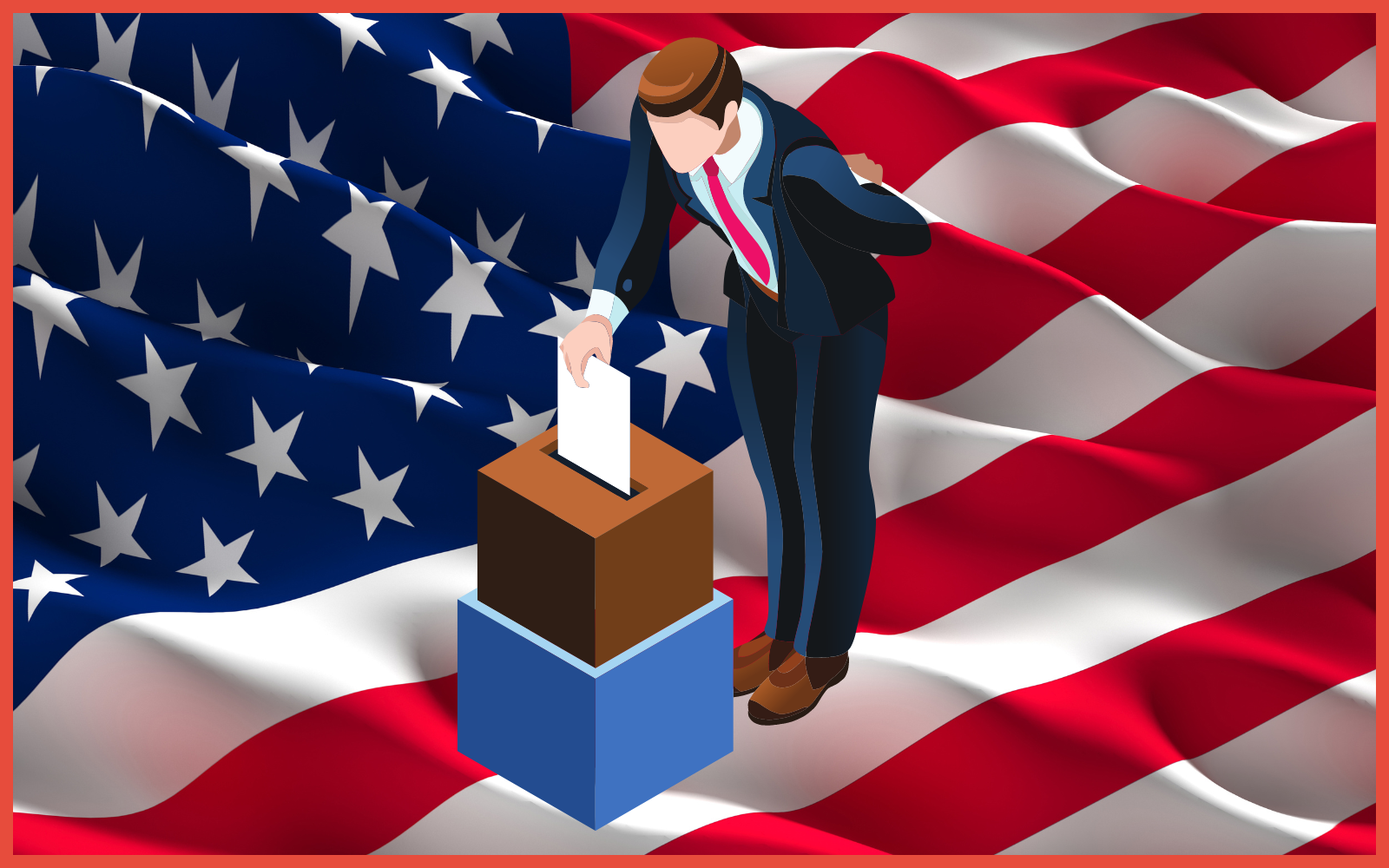 November 8th is right around the corner, and the time to start texting voters is now. Want to win your race? Check out these real GOTV text message examples for inspiration for your own texting program.
The final weeks are upon us, and voting has already begun. Are you fully maximizing your voter contact with texting to get as many voters to the polls as possible? If the answer is no, you should be - and here is why.
One of the major reasons promising candidates lose their races is because their campaigns ignore the basics of voter contact and don't establish multiple touchpoints with voters to get their message to stick. Effective GOTV outreach should span multiple channels and needs to start now!
Texting is the perfect addition to your existing outreach to obtain these lasting touchpoints. The low learning curve and relatively low cost will get you from zero to texting faster than any other outreach channel. In addition, the visibility of texting is unmatched, with 95%+ of all texts read within 5 minutes of sending!
If you have never texted before or if you are short on volunteers, don't worry. Our team's expert campaign strategists can help you win with a superior GOTV texting strategy via our full-service sending or provide the extra hands you need to get your texts sent with our outsource sending.
If you are just looking for inspiration for creating your own expert GOTV text strategy, we have got you covered. Take a look at these five effective GOTV text message examples pulled directly from successful texts by our clients to inspire your campaign to send election-winning messages of your own.
1) Powerful Video Engagement - State Representative Campaign
As a general rule of thumb, we recommend sending at least one or two texts leading up to election day focused on engagement followed by to 1 to 3 reminder-to-vote texts starting 7 to 10 days out.
A great way to engage voters is through video, and we have the award winning video texting technology to send your made-for-tv ads, digital video ads and direct-to-camera videos directly to your voters. Here is what sets our technology apart:
Highest quality video & audio regardless of voter's phone carrier or device
Custom captions added for the 83% of phones set to silent and the 50% of Americans who say they rely on video captions
640 character EVT messages with trackable links and dynamic fields
Choose the preview frame of your video
Highest delivery rate in the industry + best reporting of delivery status
This state representative campaign sent both a direct to camera and professional made-for-TV ad to voters and received very positive feedback.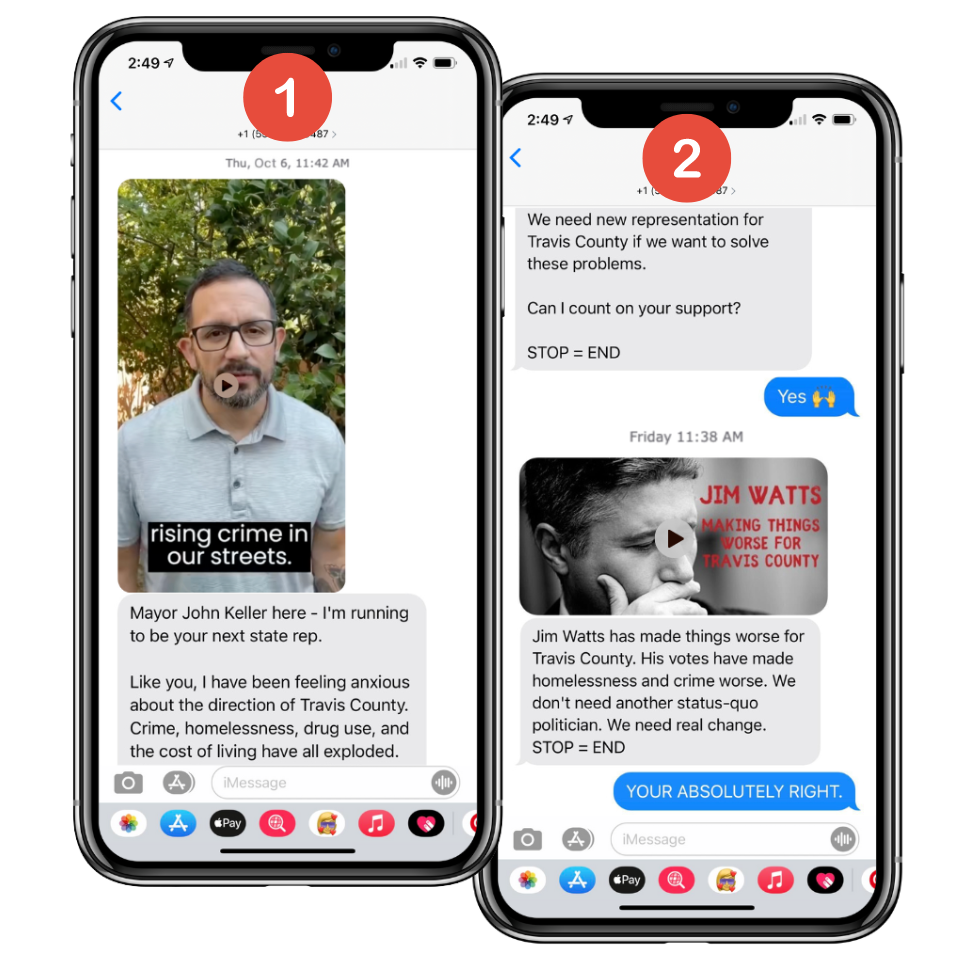 In the midst of a record number of cord cutters, Linear TV and OTT/CTV inventory price spikes and political ad blocks on social media, sending your videos through text is a surefire way to get the most bang for your buck and to stand out from the crowd.
2) Persuasion Through Personal Conversation - City Council Campaign
The text you send on election day to get voters to the polls will mean much more to someone if they have heard from you before. Establishing a relationship with the voter exponentially increases the effectiveness of an election day GOTV text— and this is super easy to do via text!
That is exactly what this city council candidate set out to do with their texting outreach. Instead of simply blasting out their message, this candidate engaged in multiple meaningful conversations with voters, like this one, and even got the supporter to agree to host a yard sign!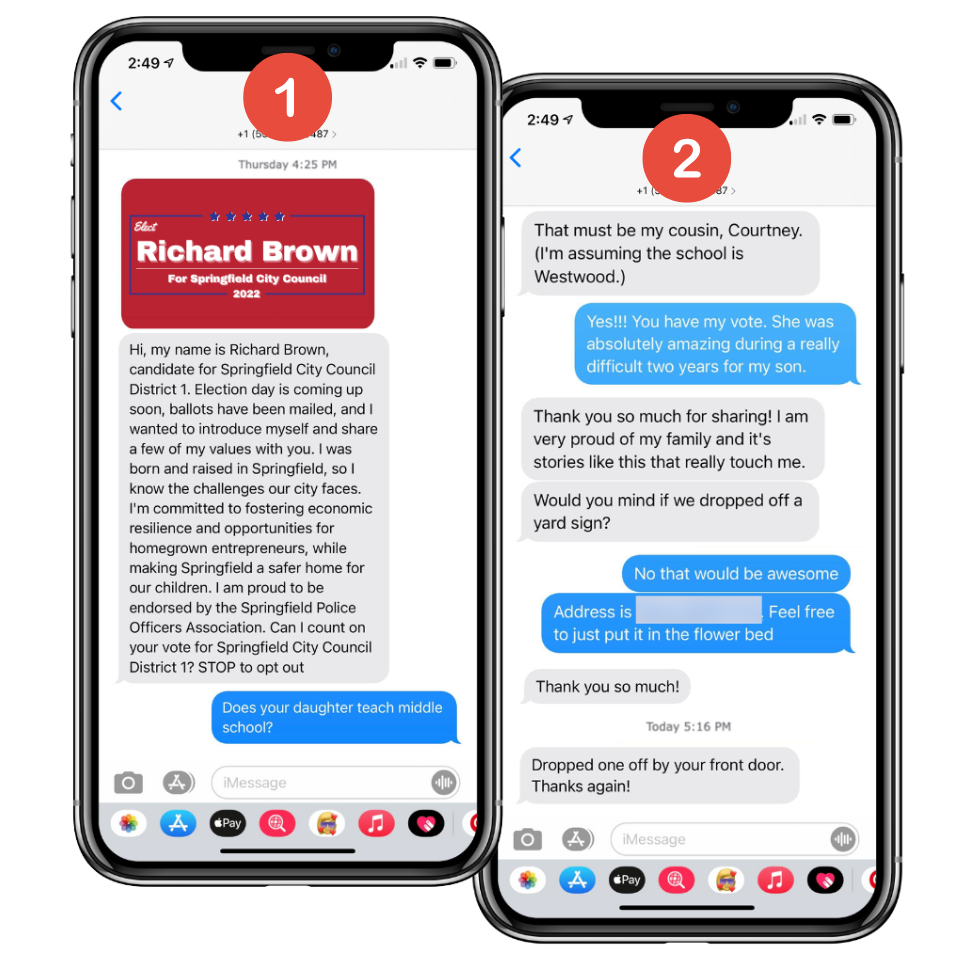 Many campaigns use P2P texting primarily to send outbound messages and miss out on the power of responding. Taking the time to treat texting conversations the same way you would a face-to-face conversation is the key to making a lasting positive impact and winning the hearts of swing voters.
Our battle-tested platform also makes responding easy with our Tap-Then-Send tool, which allows you to load custom pre-written responses to reduce the time volunteers spend writing each response to replies. This campaign utilized the Tap-Then-Send tool with corresponding custom tags to ensure that all contacts who took the time to respond received a reply.

3) Targeted GOTV Fundraising - Gubernatorial Campaign
The most successful fundraising texts include at least one of the following elements in their messages:
Call-to-action aids such as suggestions for a reasonable dollar amount to donate or deadlines
An explanation for why the person should donate/what their money will go towards
A shortened link using our URL shortener tool (NOT bit.ly) directing supporters to a mobile-optimized donation page

We provide a built-in link shortening tool that also tracks click-throughs for you
For even more seamless fundraising, check out our text-to-donate integration with Anedot

MMS attachments such as pictures, videos, or GIFs complement and support your message copy. MMS texts are more interesting to open and boost average response rates by over 50%.
This gubernatorial campaign sent out a compelling GOTV-oriented fundraising message using three of these elements: a deadline CTA to create urgency, an explanation that the money will help push the candidate ahead in their tossup race, and a shortened link to their mobile-optimized donation page.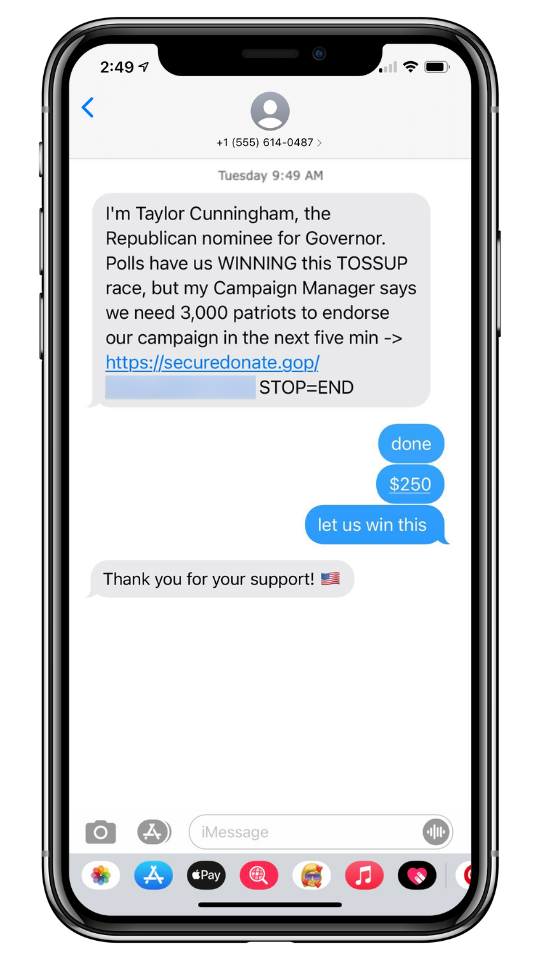 Most importantly, like the previous example, this campaign prioritized thanking donors for successfully supporting using a Tap-then-Send response.

Everyone knows voters who commit to donating once are very likely to contribute again, which is why thanking donors is so important. If your donors don't feel their contributions are appreciated, they won't continue to be donors for very long.
This targeted send to 2,116 likely donors cost the campaign merely $107.35, and they raised over $3000 within hours of sending.
4) Mail-In Ballot Chasing - Congressional Campaign
2020 was the year of the mail-in ballot. Although normal campaign operations have largely resumed, there are still ballots to be chased down in 2022. This congressional campaign is in one of the eight states that allow all elections to be conducted by mail - California.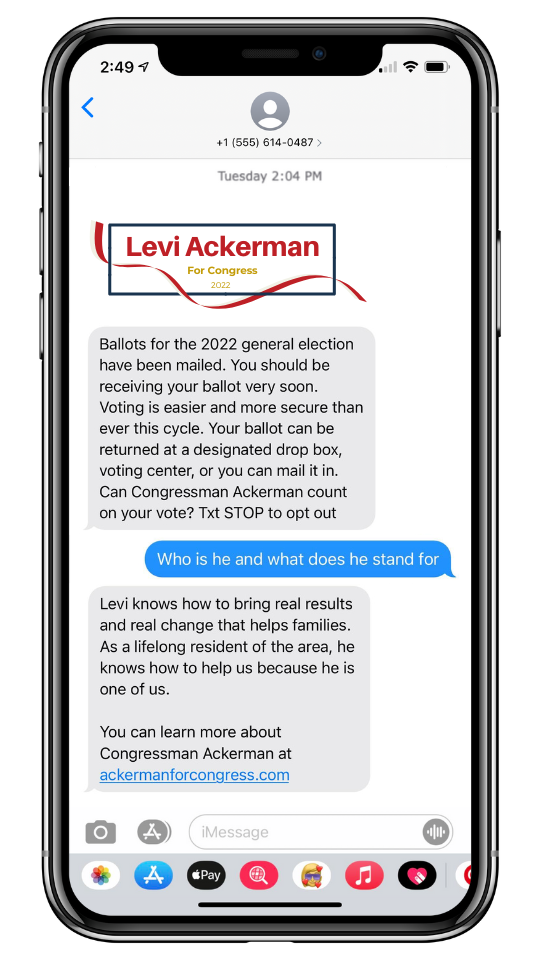 Their persuasion text asking for support included vital information about mail-in ballots, which is crucial for campaigns in these vote-by-mail states. Other information to include in texts, besides when to expect ballots in the mail, is how to fill out a ballot and the nearest mail-in ballot drop location.
This text targeted low-propensity voters, so the campaign used custom tags to organize the voters' zero-party data on whether or not they supported the candidate. Volunteers now know exactly who to text a reminder to get out and vote on election day.

If you need help securing good data to target low propensity or swing voters, especially after redistricting, our L2 integration and RNC Data Center integration make it easy for you to obtain clean cell phone lists! All you need to do is fill out the L2 or RNC Data Center request form available directly in the RumbleUp portal
PRO TIP: In these GOTV texts, people who have already voted by mail or participated in early voting will likely tell you if they did so or not. When someone shares information like this, use a custom tag to indicate that the campaign no longer needs to chase their vote to avoid annoying voters and wasting time and money.

5) Election Day GOTV - Congressional Campaign
Even if you have laid the groundwork correctly for fantastic election day texting by sending your engagement and reminder texts and tagging contacts that need to vote, you still must stand out in the sea of GOTV texts and ads that will bombard voters.
This congressional campaign did precisely that with their primary election day text earlier this year.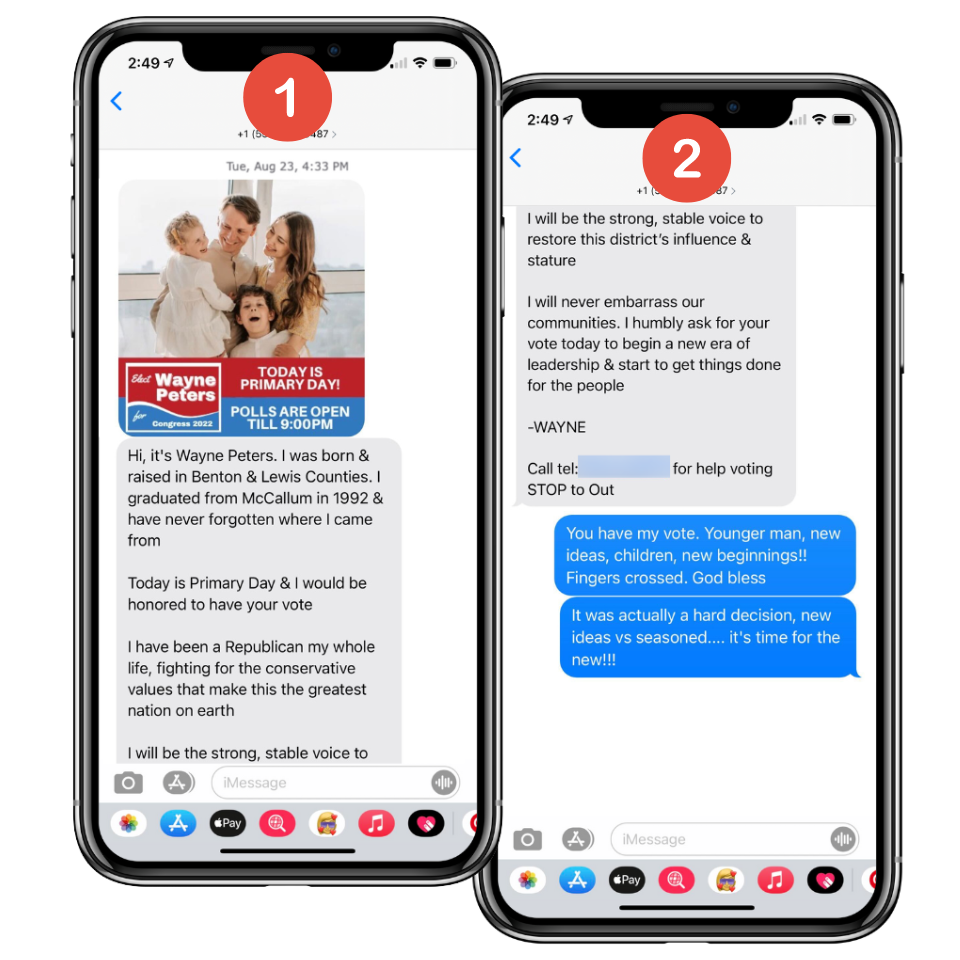 They took full advantage of the 640 character limit when sending an MMS message to craft a heartfelt message encouraging people to go to the polls, even providing a phone number for anyone to call if they needed more information about voting.
The candidate won their primary by only 4.2%, proving the need to chase every vote and present your case for why people should vote for you through election day.
Bottom Line
Election day is fast approaching, and there is still time for your campaign to start sending amazing GOTV texts to voters. If you haven't considered P2P texting for your GOTV strategy yet, choose RumbleUp, the best peer-to-peer texting platform in the industry, to help guide your campaign to victory.
Still not sure if P2P texting is right for your campaign? Please contact our Client Experience team at cex@rumbleup.com and they will help find the best solution for you.
We are looking forward to seeing the outcomes of these exceptional texting programs!